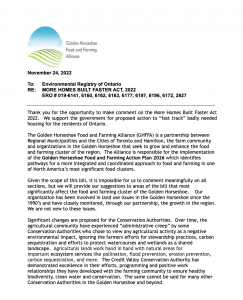 The passing of the omnibus Bill 23 this fall has brought significant change to planning in Ontario.
While the details are not yet clear and the "consultation" period for parts of the Bill are still ongoing, significant anxiety exists in both urban and rural municipalities for the impact of proposed development on agricultural lands.
Albert Witteveen, Chair of the Golden Horseshoe Food and Farming Alliance, responded to the government in November with this letter.
We will watch the implementation going forward and continue to offer advice to the province regarding the preservation of our precious agricultural lands in the Golden Horseshoe.