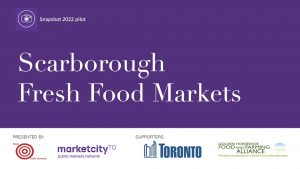 Over the last year, the Golden Horseshoe Food and Farming Alliance has been among many partners supporting a Scarborough Neighbourhood Fresh Food Markets Pilot, led by Marina Queirolo of Market City TO, and Jennifer Forde, founder of the Scarborough and Courtyard Farmers' Market.
In the blog post below, we are excited to have Marina share the pilot's success. Marina will discuss what the project is all about, and demonstrate how collaboration among diverse people and organizations is vital to addressing issues of local food access and affordability in communities across Toronto and beyond.
To start…
It is essential to say that the Scarborough Fresh Food Pilot is an initiative born and designed by Scarborough community champions. The experience and expertise of market managers, and people working in food insecurity, community development, and the private sector, all informed the pilot. Together, they co-created and delivered a program that benefits Scarborough residents and entrepreneurs, while building community pride. Designed to be scaled across Scarborough first and then Toronto and the region, the initiative has showcased Scarborough's innovation and resilience.
Current Context
The pandemic highlighted the vulnerabilities, inequities and racism embedded in the city's current food distribution system, which fails to provide equitable access to fresh food, and limits economic opportunities for small/medium urban and rural entrepreneurs.
Frustrated by years of disinvestment in Toronto's east end, Jennifer Forde launched the Malvern Farmers' Market in 2018, which also eventually led to the opening of the Scarborough Farmers' Market in 2020. Jennifer also helped start the Courtyard Farmers' Market, launched in 2019 as a Workplace Wellness initiative with GWL Realty Advisors. During the outdoor season, these markets are a weekly celebration of food, diversity, culture and community that connect market patrons with local farmers, artisans, and entrepreneurs.
In 2021, Jennifer and I began meeting to discuss a new neighbourhood food market model that could provide an alternative solution to many of the challenges Scarborough residents and entrepreneurs face (challenges like access to fresh food and economic opportunities), which led to this pilot project. We invited diverse partners to participate and contribute ideas and support throughout the design process.
The Pilot Project's Goals
Work with and support market managers in making their markets more resilient and successful for them and their vendors.
Increase equitable access to locally-produced food for all residents, especially those most impacted by food insecurity
Support small and medium enterprises and enable economic activities at a neighbourhood level, especially those most marginalized by systemic racism
Create a safe and vibrant public space where all Torontonians feel welcome and included
By early 2022, we were ready to prototype and approached the City of Toronto Economic Development Food Cluster division and the Golden Horseshoe Food and Farming Alliance for their support. They quickly saw the idea's potential and provided the funds to deliver a pilot during the 2022 outdoor season.
Snapshot of the Pilot's Impact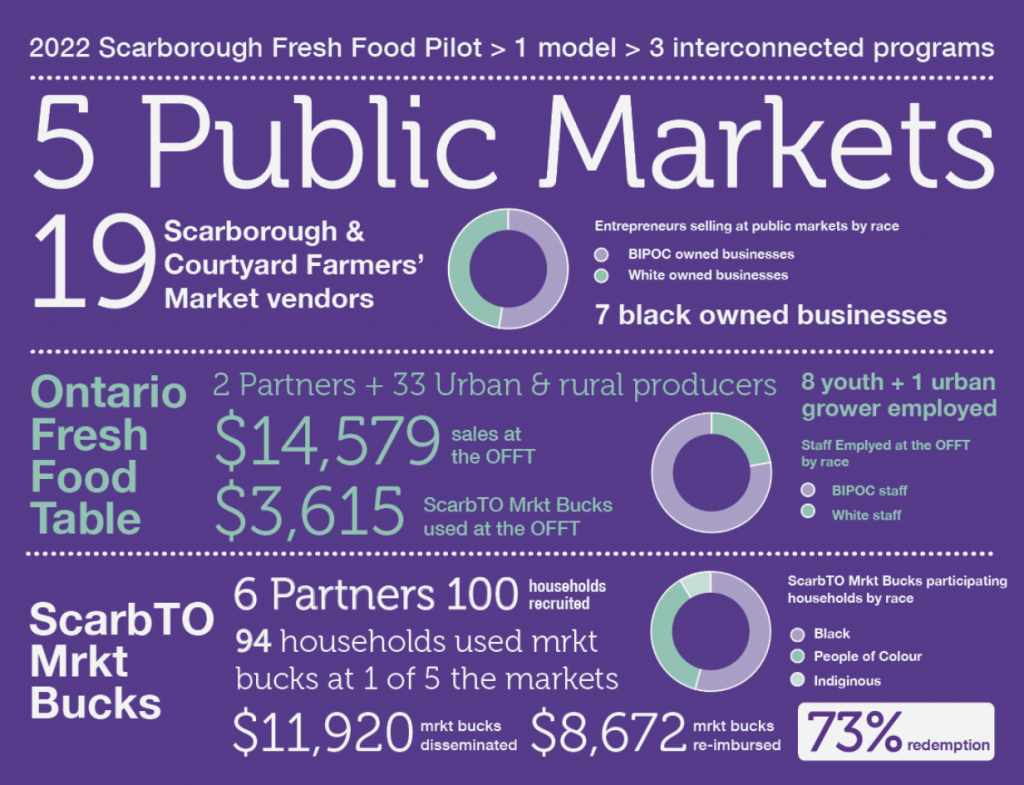 About the 2022 Pilot
The Scarborough Neighbourhood Fresh Food Markets Pilot brought together three inter-connected programs (listed below) that increase access to locally-produced food in underserved neighbourhoods, support urban and rural farmers, and advance more inclusive public spaces and "nano economies."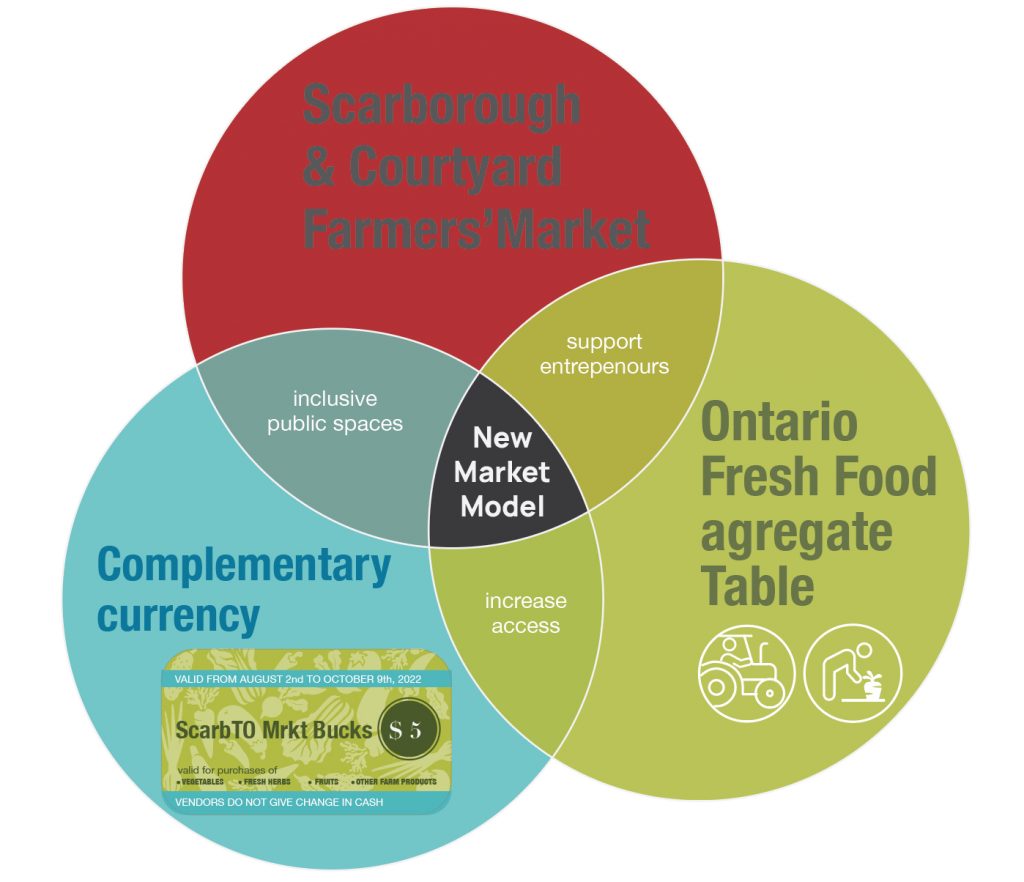 1) Scarborough Farmers' Market
As Market Manager, Jennifer Forde knows first-hand the challenges behind building a thriving neighbourhood-based farmers' market. It all starts with having the right vendor and product mix for the community where the market is located. At the same time, Jennifer prioritises creating opportunities for new businesses; from her perspective, her markets are an incubator that help entrepreneurs get started. So you mustn't forget the importance of having enough traffic and sales to ensure the vendor's viability — all while maintaining the market's accessibility, especially in low-income communities.
During the pilot, Jennifer implemented five markets across Toronto's east end. The ambitious plan engaged 10-15 vendors in each market, of whom more than 50% were BIPOC, especially women and people in transition to new carriers.
"This pilot proves that we can build successful markets in this community and confirms that fresh produce drives the market," Jennifer shared at our end-of-year reflection. "I was also surprised how diverse communities, especially new immigrants, look for good quality farm staples like eggs, honey and maple syrup, and artisanal goods like homemade salsa." Lastly, we knew this before we started, but it was good to confirm that "consistency is key" — with resources and proper support from the city, we can do this.
Customers and vendors were sad at the end of the season as there are no winter markets in Scarborough, which is why I want to prioritize building a year-round market next year.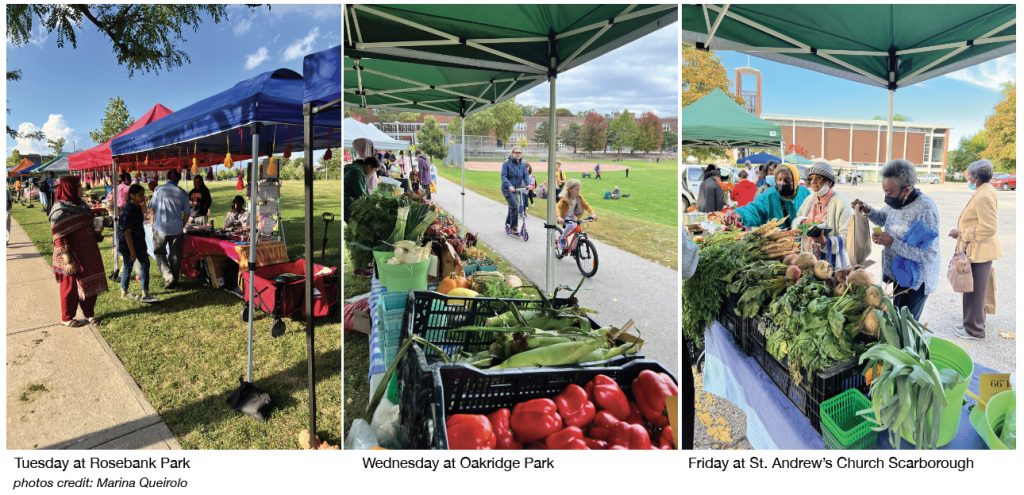 2) Scarb TO Mrkt Bucks
This complementary currency or "market bucks" program supplements residents' income by providing $20/week per household to spend at their local farmers' market. Inspired by the BC Nutritional Coupon Program, which has been funded by public health for 10 years, we worked closely with six community partners in each neighbourhood to identify food-insecure residents or families willing to participate in the program. From August to October, each household received $20 a week in market bucks they could spend at the five participating farmers' markets to purchase Ontario vegetables, fruits, eggs and honey. On a weekly basis we saw individuals and families return to the market, and we had great conversations about the new ingredients available and why it is important to eat locally and seasonally. The diversity of the families involved challenged us to learn how to communicate through food, as in many cases English was not their first language. We laughed a lot and built relationships that helped many marginalized residents feel included and welcomed at the market.
The diversity of our partners helped us reach a diverse group of people and learn different approaches to support and scale the Scarb TO Mrkt Bucks Program. We are very grateful to Malvern Family Resource Centre, Centre for Immigrant & Communities Services, TAIBU Community Health Centre and Grant African Methodist Church and The Church of St. Andrews's Scarborough for their support and participation.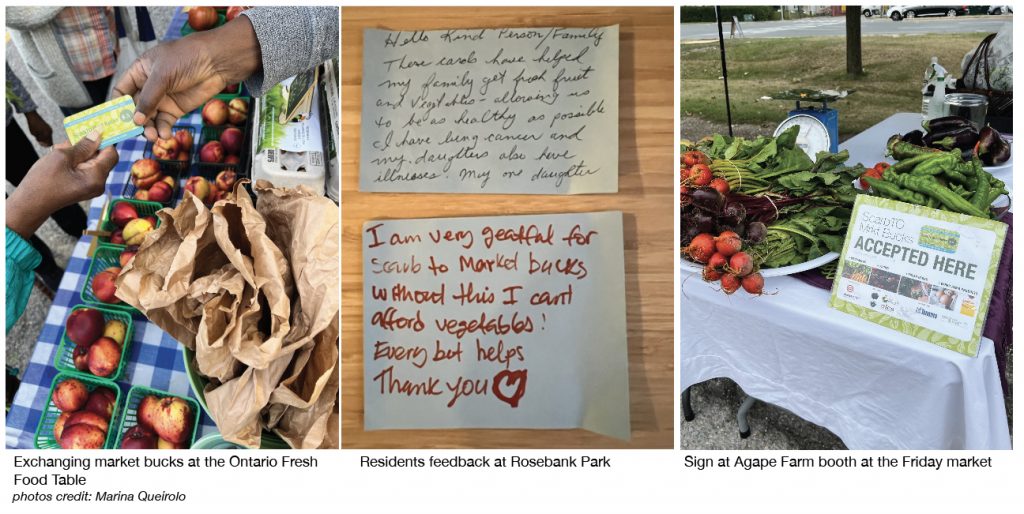 3) Ontario Fresh Food Stand
Fresh produce is critical to a thriving neighbourhood market. However, market managers need help securing a farmer willing to participate, especially in low-income communities and new farmers' markets. That is why we designed the Ontario Fresh Food Stand, an aggregate model that 1) brings fresh Ontario vegetables, fruits and other farm products to residents who want and deserve access to locally-produced food, and 2) benefits farmers with increased sales at fair prices. Another important aspect of this program is that it allows new farmers to stay on the farm and focus on increasing their growing capacity, which is especially important for an emerging group of BIPOC urban growers.
We want to be nimble, adaptive, and reduce the start-up cost, which is why we partnered with two local food distributors — 100Km Foods and Grace and Gather — who delivered the product to the park. They already had the distribution infrastructure (trucks, walking coolers, etc.) as well as a network of local farmers at different scales and production practices. Collectively, we purchased from 34 Ontario producers, providing them access to customers they otherwise would not have been able to reach.
At the stand, we trained and provided meaningful summer employment to Helen, an urban grower, and eight youths interested in food production, marketing, and distribution. Lastly, we partnered with local food banks who picked up or we dropped off any unsold ingredients to ensure nothing was wasted.
This approach is a win-win-win situation, a win for producers, a win for customers and a win for market managers!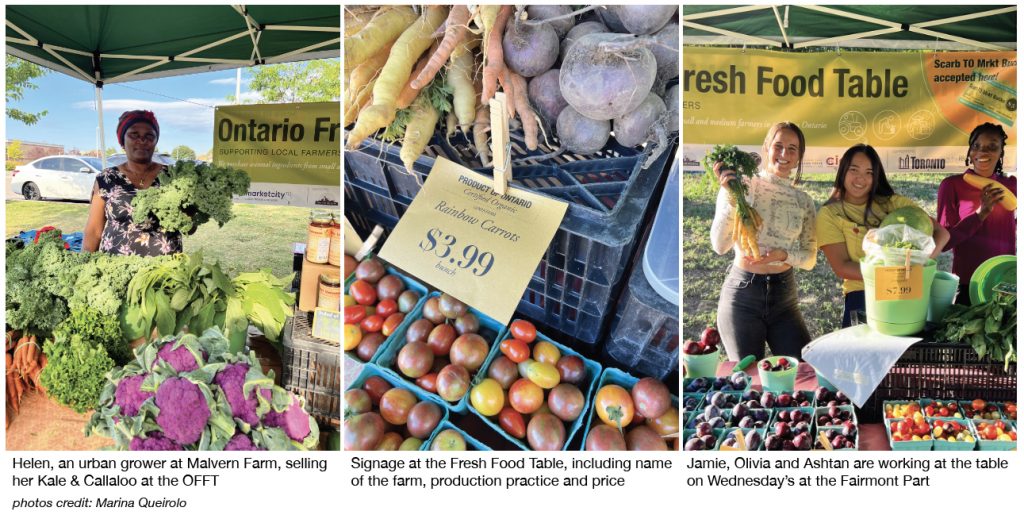 Final Thoughts
The 2022 pilot was a success on so many levels. We saw customers regularly come to the market and enjoy the fresh produce and the experience of connecting with other community members. Feedback from vendors was also highly positive, as they saw an increase in traffic; the vendors who participated in the Market Bucks Program saw up to a 20% increase in their sales. Community partners helping with the Scarb Mrkt Bucks Program, especially food banks, were able to provide much-needed access to fresh food to their clients. And 100km Foods and Grace and Gather and their producers opened new market opportunities — they also felt honoured to be part of a solution that links food insecure residents to local food.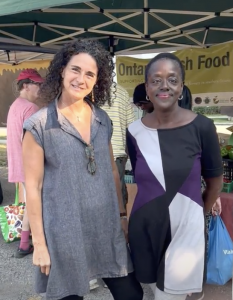 Both Jennifer and I worked hard on this pilot and are excited by what we achieved in such a short period of time. We are now working on our impact and learning report. We want to continue to expand the program in Scarborough, and we look forward to continuing our work with community partners, the Golden Horseshoe Food and Farming Alliance, as well as the City of Toronto.
Interested in learning more?
Check out the project snapshot and this video with Jennifer Forde at the St. Andrew's Church Scarborough Harvest Market.
For more information, please contact Marina Queirolo at mqueirolo@marketcityto.org.