Outdoor farmers' market season is upon us in Ontario, with many markets working hard to continue their essential role in safely supplying communities with farm-fresh food.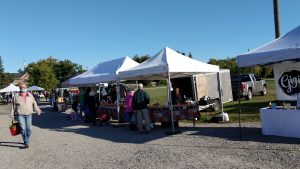 The Milton Farmers' Market, operated by the Milton Chamber of Commerce, was one of many markets that went through some big changes last year to continue to operate safely — and they were able to do so with impressive success.
This year, the Milton market will re-open on May 22nd at the Milton Fairgrounds (136 Robert Street), instead of the market's usual downtown Main Street location, where they'd been operating for about 30 years prior to COVID-19.
The Fairgrounds market will continue to offer 30+ vendors, easy access to parking, and plenty of space for distancing, as was the goal last spring when the market initially moved to Country Heritage Park, after being advised by the Town of Milton and the Halton Health Department that they would not be allowed to use the Main Street location, since the use of public spaces was no longer permitted.
"The pandemic created many challenges for the Milton Farmers' Market," shares Scott McCammon, President & CEO of the Milton Chamber of Commerce, "But we were determined to do whatever we could to help our local farmers and producers. Thanks to the generosity of Country Heritage Park and the Milton Fairgrounds and to the counsel of the Halton Health department, we were able to be one of the first outdoor markets in Ontario to open. Overall, it was a successful season and our customers appreciated that we opened and operated safely."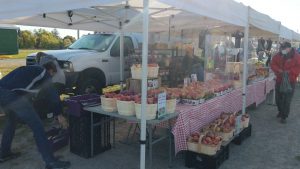 Scott says Country Heritage Park (CHP) was their saviour when they offered their barn and property for the market in May 2020. The quick move and partnership allowed the Milton farmers' market to open only one week later than usual, with the majority of their vendors present, and more than enough space for the required 6-feet between stalls. They typically have about 40 vendors, and about 30 came to CHP. (The few who didn't attend were either not doing markets during COVID, or felt they couldn't sell enough if sampling wasn't allowed.)
Traditionally, the Milton farmers' market would see about 2,000 customers a week. Even with the move away from Main Street, the CHP & Fairgrounds Market still had about 1,350 weekly customers on average, with one peak week recording 1,650 — and vendors actually expressed that they were getting more serious shoppers because of the experience at CHP and people having to drive there.
At CHP, vendors lined up along the laneway leading to the barn, with a few vendors inside the barn, and market staff at the door would limit customers and ensure mask wearing and hand sanitizing. The market also introduced curbside shopping so customers could pre-order via Local Line, thanks to some OMAFRA funding.
In the Fall of 2020, when CHP was allowed to start opening for small weddings and events, the Milton farmers' market found a new home for its final weeks at the Milton Fairgrounds—closer to to downtown Milton—where they will remain for the 2021 season with similar safety measures in place.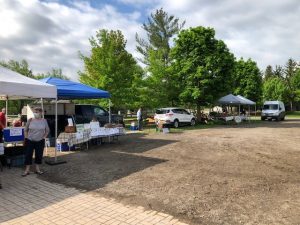 The 2021 Milton Fairgrounds Market will be open Saturday mornings from May 22nd – October 9th!
Bravo to our locally-run farmers' markets that have continued to connect communities to farm-fresh food through a turbulent year. We're looking forward to another market season!
Learn more about the Milton Farmers' Market, including vendors, on their website here: http://miltonfarmersmarket.ca/