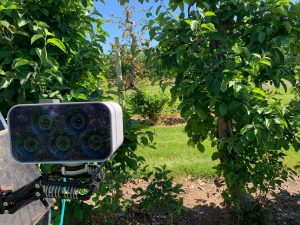 58% of food produced in Canada – or 35.5 million tonnes – is lost and wasted annually, according to this Second Harvest report. It's an enormous problem with enormous consequences.
That's why companies like Vivid Machines are working to address food loss and waste, specifically along the fruit supply chain.
Incorporated in November 2020, Vivid Machine's mission is to revolutionize fruit production and the entire supply chain. The Toronto-based company has built cutting-edge vision technology to help fruit growers produce more food on existing acreage, while providing early yield predictions to packhouses, marketers, and retailers.
"Today, 30% of fruit produced doesn't make it into grocery stores due to quality issues," co-founder Jenny Lemieux explains. "Digitizing production to better manage crop loads could help growers intervene early, increasing marketable yield, sustainability, and the amount of food produced on existing acreage."
Their unique spectral sensor and computer vision system helps fruit growers understand every single tree to maximize the volume of fruit produced. The Vivid X-Vision system integrates into farm workflows by mounting onto existing farm equipment, capturing plant-level data below the canopy and across production as growers conduct regular farm activities.
"Producing more food on existing acreage will be key to supporting a growing population, predicted to be 10 billion people by 2050," Jenny adds, "and it's not just quantity – nutrition needs to play a key role to support health globally."
The company was founded by Jenny Lemieux and Jonathan Binas, who met in the first Canadian cohort of a program called Entrepreneur First (an accelerator program to solve a globally-relevant problem). The two had complementary backgrounds — Jenny grew up on a farm, and Jonathan's family had an organic food business.
"We were both passionate about food and agriculture and also had backgrounds in physical, machine learning, and software products," Jenny shares. "We talked to hundreds of farmers, agronomists, and fruit and vegetable growers, and discovered this interesting problem in permanent crops that we thought we were particularly suited to solve."
Jenny studied engineering, design, and data science (P.Eng, M.Des, MMAI), and has experience in developing physical and software products for corporations and start-ups, and in operating digital businesses. Jonathan has an MSc in Physics and a PhD in Information Technology from ETH Zurich.
"Together, we worked at the intersection of hardware, optics, deep learning and farming to create our idea for our global solution."
Vivid Machines has now grown into a 15-person multi-disciplinary team. The diverse team has skill sets across hardware, firmware, software engineering, machine learning, agricultural and environmental sciences, and international development.
They currently have eight customers, including Chudleigh's in Milton, as well as Algoma Orchards in Newcastle, Canada's largest apple producer.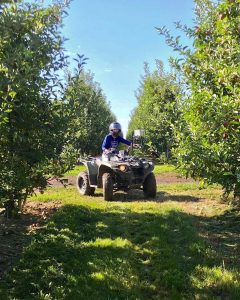 The technology has also gone international. Last year, in a trial in New Zealand, Vivid Machines technology predicted yield with 97% accuracy one week before harvest. "We're still working on improving predictions from blossom to harvest, and have sent systems to New Zealand for this winter to continue to improve prediction accuracy," Jenny adds.
With such impressive results, it's no surprise that Vivid Machines is a finalist for Agriculture and Agri-Food Canada's Food Waste Reduction Challenge.
"We are thankful that this work is being recognized by AAFC, growers globally, and our valuable partners," Jenny shares. "It gives us the extra fuel to keep working hard in the development of our product. AAFC are helping us determine how best to quantify our impact, which will be helpful to growers and to our overall objectives."
To learn more, visit the Vivid Machines website here.
They also have a podcast, Vivid Machines Variety, to spread knowledge about AgTech and Artificial Intelligence.
If you're interested in getting involved, stay tuned on their website — they'll be recruiting in the Golden Horseshoe this winter for on-farm positions in the spring.