Farm Tours pivot due to COVID-19
Autumn is the season of the harvest, and it's also the season for farm tours.
Each year, like many regions, Dufferin Farm Tour showcases about six farms within a specific area, offering the public the opportunity to get to know their local farmers, ask questions, and gain a better understanding of where their food comes from. Thousands of residents attend.
While the Dufferin Farm Tour committee knew they couldn't continue that tradition in the same way this year, they knew they wanted to maintain their educational efforts. The committee decided to go virtual and create a video featuring various farms across the county, and then host a viewing party live on Facebook on the original tour date scheduled during Ontario Agriculture Week.
"Of course we'd rather have the doors open, hands-on, with people coming to the farm," shares Jeanette McFarlane, Dufferin Farm Tour committee member, "but in a year where we couldn't do that, we've been able to actually expand our reach with this video, deliver on all of our mandates, and we actually found a lot of success."
In fact, they have since received a 2020 Award of Distinction for the video from the Canada Shorts Film Festival!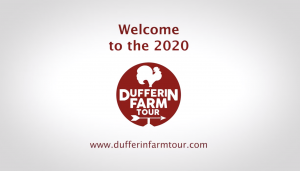 The 2020 Dufferin Farm Tour video traverses 11 different farm businesses across Dufferin County, showcasing the diversity of farms in the area — from goats, sheep and cattle, to cash crops, biodynamic agriculture and more, from newer farms to older traditional farms that've been around for 150 years, the video visits:
Sevenhills Holsteins
Mulmur Vista Farm
"Dufferin's a pretty unique spot because we can grow a variety of crops. There's big cash crop farmers, and there's small market garden farmers, and it's a great place to be," Bill McCutcheon, Dufferin Federation of Agriculture, shares in the video. "Agriculture in Dufferin is the biggest economic driver in the county, and provides lots of employment for local folks."
Since the live viewing party, the video has been posted to other platforms, like YouTube, as an educational resource that is now shareable beyond the original tour date.
"People still need to know where their food comes from, what the challenges are, and how COVID has affected that supply chain," Jeanette explains. "People want to know their local farmers and know where they can get fresh produce."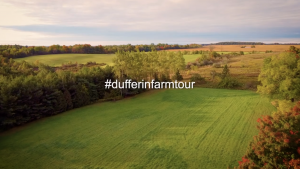 The video has been shared with local municipalities, media, sponsors, and schools. They've connected with the Headwaters Farm to School Program to distribute the video to educators; it will soon be circulated to the Upper Grand District School Board as a resource for in-class and virtual learning.
"We've got something that's local, that's relevant, that's meaningful, and can assist with what teachers are doing in the classroom and online," Jeanette says, "and for most kids it strikes a chord because they realize it's near them — there's this, 'hey, that's where I live!'"
While half of the committee worked on the video, the other half focused on a food drive that would usually be supported by donations from the in-person farm tour. A collection at local grocery stores resulted in over 3,000 pounds of food donated and around $3,000 collected for the Orangeville Food Bank, the Shepherd's Cupboard Food Bank, and the Grand Valley Food Bank.
"In a year where the pandemic has been catastrophic, it's easy to not do anything and close up, but we realized it's the year we need to do more," Jeanette tells us. "It was so great to see the community come together. We even had people share pictures of their kids gathering around to watch the video, so, you know, we wanted people to be engaged and learning, and it was a great success."
Watch the full Dufferin Farm Tour video on Facebook here.
Funding for the video came from local businesses, Dufferin County, Dufferin Federation of Agriculture, and Central Counties Tourism.