No sector has been unscathed by COVID-19, certainly not the food and farming sector.
But to start the year off on a hopeful note, we'd like highlight the generosity of Canadian farmers and farm organizations who, through tumultuous times, have been working to support their communities via propitious partnerships throughout the last year.
Early on in the pandemic, a group of farmers in Durham Region came together to figure out how they could support their neighbours in a meaningful way. So when Feed the Need Durham expressed a dire need for more fridge space at food banks, that became their focus, and in May, the Durham Region Dairy Producers donated a fridge and freezer to one of their local after-school programs.
The dairy farmers then partnered with a local egg farmer group to purchase two more industrial fridges for centres providing meals to those in need in Oshawa and Whitby. To fill the new fridges, the farmers reached out to Kawartha Dairy, who joined their efforts and donated $2,500 worth of milk and eggs.
"The great thing about being able to offer fresh food, and have the space to hold it, is that we can keep people coming back, and it becomes a first contact point for them to access the other services that are here", explains Derek Giberson, Board President of Back Door Mission for the Relief of Poverty, one of the recipients of the fridges. Hear more in this CTV video segment here.
"We wanted to do something with a lasting impact to help the many in Durham Region that require emergency access to food," said John Werry, a dairy farmer from Oshawa, in this article. "The refrigerators will allow these Durham Region food banks to be able to store more food donations and help more people. This was a great collaborative effort that filled a crucial need."
These crucial needs were also on the mind of provincial farm groups.
In April, the Dairy Farmers of Ontario donated $100,000 to Feed Ontario, as well as 200,000 litres of milk on top of the one million litres they already donate each year.
Many other Ontario farm organizations have partnerships with Feed Ontario, formerly the Ontario Association of Food Banks.
The Ontario Pork Industry, for instance, has a Friends of the Food Bank program with Feed Ontario that raises funds to help Ontario food banks purchase pork. Their farmers banded together in 2020 to raise money in support of the program. To date, the program has donated 188,000 pounds of pork, supporting 1,200 hunger relief agencies. Ontario pork producers and industry partners also contributed to a Pork Industry Gratitude Project last year, earmarking some funds for community-based food giving by each of the 25 local pork associations across the province. Learn more on the Ontario Pork website here.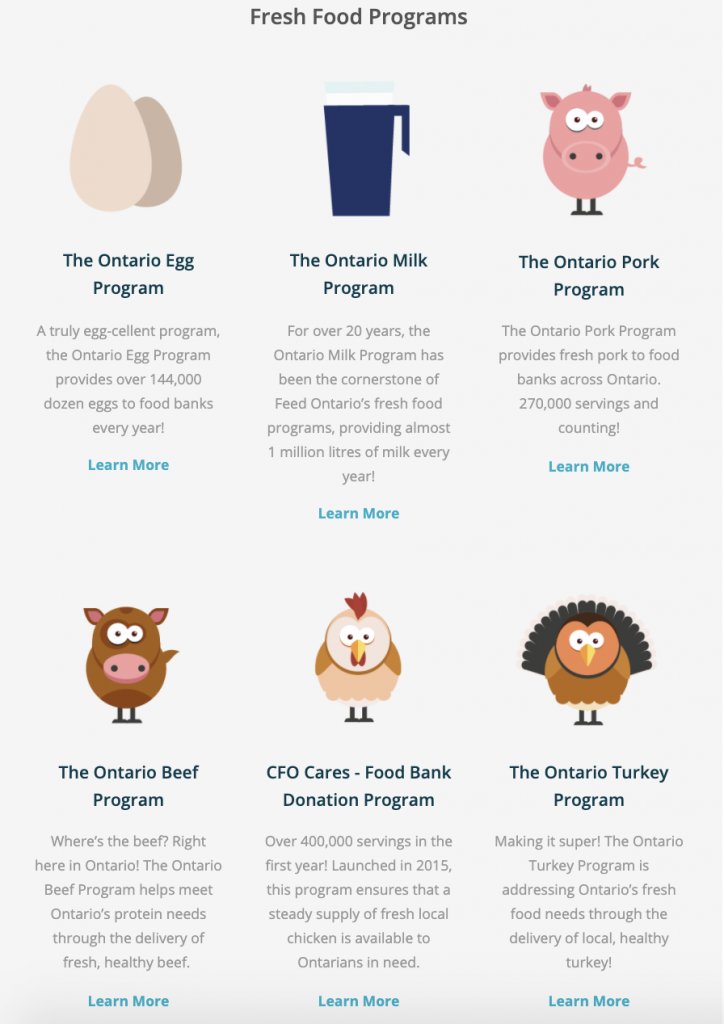 Feed Ontario runs numerous programs in an effort to bring healthy, local protein to those accessing food banks: there's the Ontario Pork Program (in partnership with Ontario Pork), an Ontario Egg Program (with the Egg Farmers of Ontario), the Ontario Milk Program (with the Dairy Farmers of Ontario, Ontario Dairy Council, and Ontario Milk Transport Association), an Ontario Beef Program (with the Beef Farmers of Ontario), an Ontario Turkey Program (with the Turkey Farmers of Ontario), and a CFO Food Bank Donation Program (with the Chicken Farmers of Ontario). You can read more about each program from the respective hyperlinks.
In their blog on "10 Things Food Banks Were Grateful For In 2020", Feed Ontario shared:
"The amount of nutritious food that we distributed through the provincial food bank network this year was nothing short of astonishing. With the support of our partners, we were able to provide essential grocery items like milk, eggs, meat, fruit, vegetables, and pantry items, such as rice and cereal, to people and families in need."
As just a few more examples:
In the spring, the Grain Farmers of Ontario donated $100,000 to the Feed Ontario COVID-19 Emergency Food Box program.
When schools re-opened in the fall, the Egg Farmers of Ontario donated  $75,000 to Student Nutrition Ontario. "Many families are struggling financially because of COVID-19 and, with students back in school, nutrition programs play an important role in ensuring children have access to nutritious food each day," shared Catherine Parsonage, Student Nutrition Ontario Chair. Read more here.
And In December, the Chicken Farmers of Canada (CFC) and Chicken Farmers of Ontario (CFO) presented a $5,000 cheque to the Ottawa Food Bank, plus an additional $5,000 in staff donations, building on CFC's earlier donation of $20,000 to the Ottawa Food Bank in March 2020.
The Ontario Federation of Agriculture blog has also emphasized the many ways farmers gave back to their communities in 2020.
While we know charity is not the solution to food insecurity, when we consider what is immediately needed during times of crises—whether it's food contributions, equipment donations, or direct funds—we're inspired and grateful to see the generosity of Ontario's farmers who work tirelessly to keep us nourished every day.
"Just as farmers support their communities, it is also important that we support our farmers," Feed Ontario reminds us. "When we see beautifully stocked, bountiful piles of produce at the grocery store, it can be easy to not see the early mornings, demanding physical labour, dedication and so much more." In this article, Feed Ontario points to some ways we can thank and support our farmers in return.