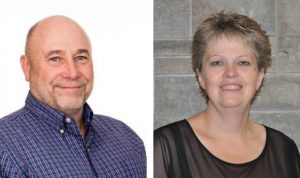 The Serving Up Local II: An Economic Analysis (SULEA) research project webinar series continues, this time in conjunction with the Canadian Society of Nutrition Managers (CSNM).
 In long-term care and healthcare facilities across Ontario, Nutrition Managers and Supply professionals are pushing beyond the status quo of acceptable food at acceptable prices, by using local food purchasing and tracking to find far-reaching results. Local food procurement and food purchase tracking is proving to be a solid strategy to better understand opportunities to improve healthcare food. These practices can lead to better managed budgets, better quality food for residents and patients, and an informed staff team that feels empowered to be active participants in their food system.
In this webinar, you will hear from Marianne Katusin, Manager of Support Services at Halton Healthcare, and Dan Munshaw, Manager of Supply Management at the City of Thunder Bay. They each have a story to tell about how they boldly revitalized purchasing practices in Ontario hospitals and LTC, and harnessed their potential to revolutionize institutional food.  We will hear how inspired food system visioning; empowered food service and distribution contracts; and improved protocols on food category tracking led to a transformation in their food systems – a change that residents and patients could taste! They will share the common barriers to overcome, proven tools for change, and the positive outcomes they saw for resident and patient food quality. Their experience over the last year paints a picture of local food supply staying steadfast in the procurement storm created by the Covid-19 pandemic – a timely reminder of the powerful potential of buying food grown close to home. Supply Managers and Nutrition Managers alike will benefit from this talk.
Date: February 11, 2021
Time: 1:00 – 2:00 PM EST
Advanced registration is required – register online here.