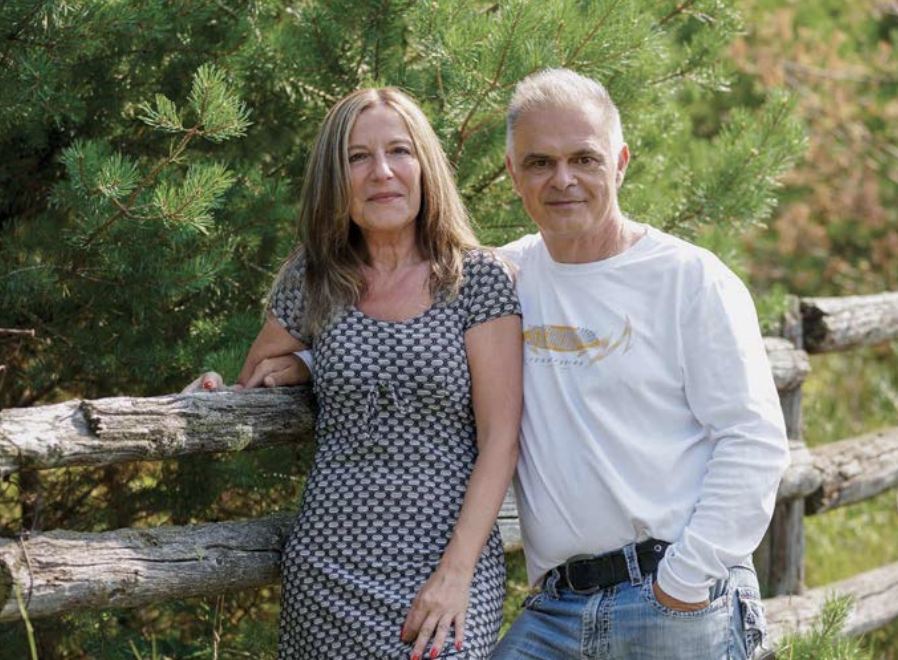 We have arrived at the scene of 25 beehives, all numbered and tidily lined up in a row. Dennis, our photographer, had reminded me to wear white, as to not anger the bees. He failed to think through the fact that his camera is large and black – and he got stung on the hand in the first 30 seconds. Once a bee pheromonal message has been released through a stinger, others will also make a defense response. Dennis takes a hit to the forehead and another to the arm. Not discouraged, he continues to capture some amazing photos of Chris with the bees.
For Chris Sidiropoulos, the business of bees runs deep into the family tree. His early years were spent around his grandfather, who was a beekeeper, or "apiarist" in Greece. Chris spent a few years with his grandfather while his parents were getting settled in Canada and he recalls the fearless skill and confidence exuded by his grandfather in the handling of bees. "Before we did anything, we always stopped for a taste of honey straight from the hive," said Chris.
Chris joined his parents in Toronto in 1971 and said, "My dad got a job with General Motors and commuted to St. Catharines, he was said to be the first Greek guy to work in that factory." Chris made a move to beekeeping himself about 5 years ago, and to learn the business, he went back to Greece and spent the summer helping his apiarist uncle.
He returned from Greece and bought some bees, and then some more. He currently has 70 hives spread across the Greenbelt, but most are located in Cedar Valley. Beekeeping provides an essential pollinating service, as many of the fruits and vegetables we enjoy are the result of honey bee pollination.
With his wife and business partner, Freda, who is at the helm of marketing and distribution, Belicious Products can be found at Stouffville IDA, the Meat Merchant, Nature's Gifts & Organic Spa, T&T Bakery & Café, Novello's, and Maunders Marketplace. Belicious Products can also be found at the Stouffville Farmer's Market and the Main Street Unionville Market.
Chris explains that the quality, colour and sweetness of the honey is impacted by the dominant nectar available in nearby flowers. For instance, the sweet Wildflower Honey made in Stouffville is darker than the golden Clover Honey produced by bees in Essa Township, while Buckwheat Honey is very dark and less sweet in flavor.
Some more of the "buzz" around Belicious is not generated by pure honey, but rather from specialty products, like Iced Honey, which is offered with organic flavours such as blueberry, cinnamon, citrus, cocoa and pumpkin spice. For a sweet and spicy combination – the Artisan Spread Bluebanero Spicy Preserve or Spicy Apricot Marmalade are a great accompaniment to any charcuterie board. New hot liquid honeys will soon be introduced.
Through the Town's business grant program, Belicious was awarded $9,570 in matching funds to increase their beehive count by 25 more hives and purchase extractive equipment. As a result, Belicious will be able to increase honey production by 375 kilos a year. "I am happy to have support from the Town to help me grow," said Chris. Once their project is complete, Ward Councillor Ken Ferdinands will deliver Belicious Products a cheque. One day, Chris hopes to have 400 hives and a specialty bee store.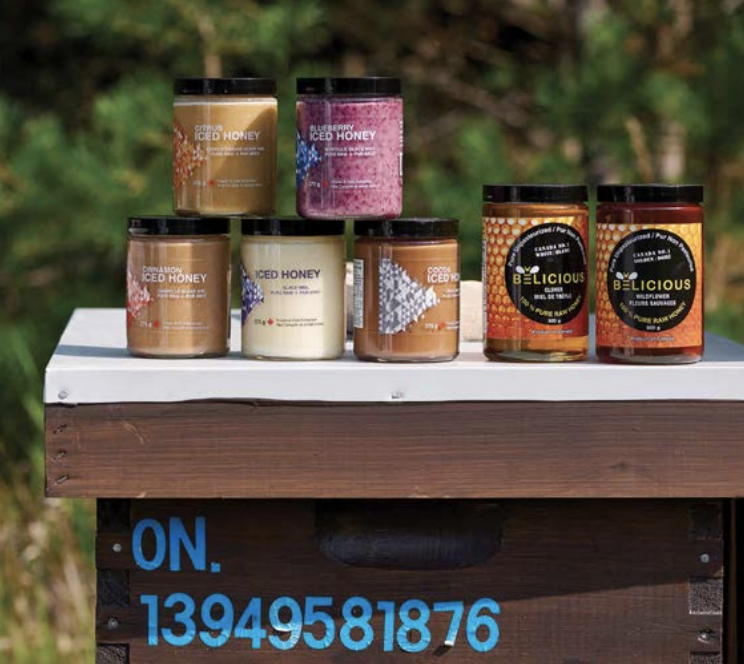 Interesting bee statistics from Chris and Freda: Every bee box contains approximately 50,000-100,000 bees and one queen; the queen lives about 2-3 years, while worker bees survive 5-7 weeks; all bees will leave a box if the queen leaves or the queen dies; when a bee dies in the box, an "undertaker bee" will remove them; bees will forage 8-10 km for food and water.
To learn more, visit beliciousproducts.com.