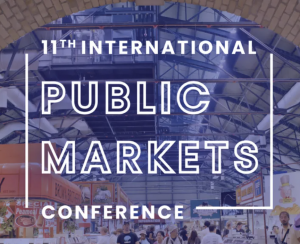 The Golden Horseshoe Food and Farming Alliance is thrilled that the City of Toronto has been selected to host the 11th International Public Markets Conference. The conference will take place next summer from June 8-10, 2023, at various locations throughout Toronto.
City staff and public market champions have worked together to secure this important event for Toronto and the public market sector.
The GHFFA will be part of the organizing committee going forward, and are excited to sponsor a tour of farmers' markets outside of the city.
"Though long-treasured by city-dwellers, the widespread benefits of public markets remain relatively unknown and unappreciated," explains Marina Queirolo, Market City TO. "As such, many public markets exist on the margins. Hosting the conference is an opportunity to make our market ecosystem visible, collaborate with local and global leaders and inspire action."
The Conference will be co-hosted by Project for Public Space with the City, the City's St. Lawrence Market and external market advocacy organization Market City TO.
The three-day event will convene more than 300 leaders in public markets from across the globe.
The City and its host partners expect to leverage the conference to:
Showcase, promote and increase education about the role of public markets in inclusive local economies
Celebrate market managers and vendors, especially Black, Indigenous and People of Color (BIPOC) leaders, advancing incredible work in the neighbourhoods impacted by marginalization
Work towards and announce the adoption of the Toronto Public Market Strategy and declare a Public Market Week to promote all public markets across Toronto.
Advocate for more resources and better policies for public markets
Build local capacity, identify barriers to participation and find ways to remove them, resulting in increased participation from market managers and city staff. Including provide leadership opportunities, especially for BIPOC market managers and entrepreneurs
Public markets intersect food, culture, economic development, retail, climate action, community development and placemaking.
We hope this conference builds bridges among market managers, regulators, academia and policymakers at the municipal, regional, provincial and federal level. We encourage people from various sectors to participate, so we can strengthen together the mid-size infrastructure that enables local food.
If you have any questions, do not hesitate to reach out to Marina Queirolo – mqueirolo [at] marketcityto [dot] org.
Read more in the City of Toronto's news release here.