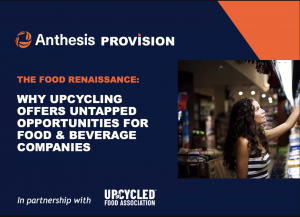 Reducing food waste has been identified as one of the most important solutions to fighting climate change.
Thus, preventing food loss and waste has become top of mind for many businesses — but what about upcycling, too?
Anthesis Provision hosted a webinar on June 23rd to discuss upcycling and the untapped opportunities it holds for food and beverage companies.
With the industry facing a number of unprecedented challenges, the webinar highlighted how upcycling can help build resiliency into the supply chain, increase profits, reduce climate impact, and bring more food back into the supply chain for human consumption.
Provision provides the following definition of upcycling: "Upcycled foods use ingredients that otherwise would not have gone to human consumption, are procured and produced using verifiable supply chains, and have a positive impact on the environment."
While food loss/waste prevention is the best solution and should be focused on first, Provision says upcycling is the next frontier.
With upcycling, you don't think of leftover byproducts as waste, but ingredients for another product. In other words, you're repurposing nutrients and creating new revenue streams. Sometimes businesses are even able to create multiple new value chains from one byproduct.
As just a few examples, imPASTA! Inc. upcycles spaghetti squash into low-carb alternatives for pasta, rice, and potatoes. CaPao upcycles cacaofruit with oats and puffed quinoa into snack squares. Lost & Found Distillery upcycles excess baked goods, bread and pastries into food, beverage, and pharmaceutical-grade ethanol. Pulp Pantry makes chips with vegetable byproducts like fiber from kale and celery — their website shares that since November 2019, their Pulp Chips have saved 79,000 kg of nutritious veggies.
To support food and beverage companies with upcycling, Provision has launched a Re(Purpose) Incubator. Six companies have worked with the incubator in Ontario so far.
An "Upcycled Certified" program is also aiming to grow the upcycled food economy. The mark on packages provides clear guidance about the presence of upcycled food ingredients, while letting consumers know they're helping prevent waste.
And consumers are interested. In the webinar, Sylvain Charlebois with the Agri-Food Analytics Lab discussed the increasing awareness and demand for these products, shown through consumer research completed in partnership with Dalhousie University and Caddle Analytics.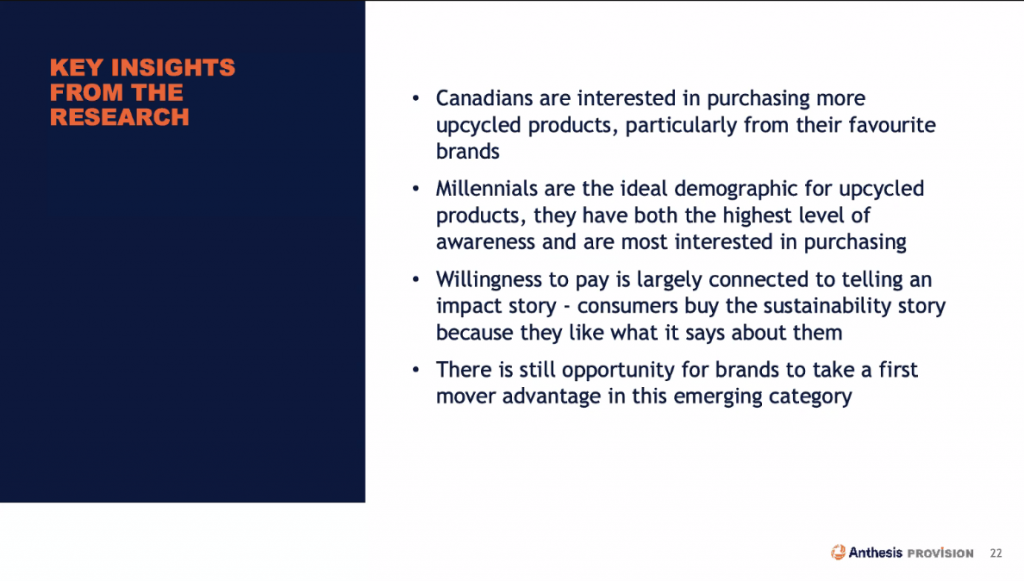 To their survey question, "Would you buy more upcycled food if it were easily available where you buy your groceries?" 82% of Canadian respondents said Yes/Depends on the Product.
Provision hopes to see more incubators across the country build a network to support the upcycling movement, explaining that for farmers or producers specifically, if there's a disruption in the market, they could go to a portal to see where their product could be repurposed.
So in addition to reducing waste and growing new revenue streams, there is potential for upcycling to help manage market disruption too.
If you're a food or beverage manufacturer producing a byproduct that could be repurposed, learn more at www.repurposebyprovision.ca/workwithus.